Turn Turn Tank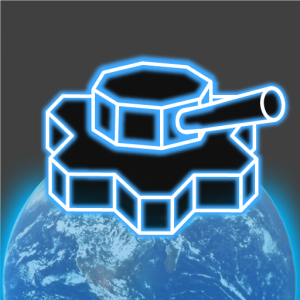 | | |
| --- | --- |
| Free Version | Full Version |
Tower defense + Shooter = TurnTurnTank
"Addictive and simple, I'd recommend this for anyone who just wants something to do while waiting for the bus or in-between classes."
–Mobile Crunch–July 19, 2009
[How to play]
TURN TURN TANK is a sensational shooting game where you can rotate the Earth and fire the tank battery standing in the center of the screen in order to protect the Earth from incoming aliens.
Control the tank in the center of the screen and protect the Earth against the savage aliens!
[Features]
-The tank moves around as the Earth rotates-
When the Earth moves, the tank in the center of the screen also moves.
Control the Earth well and target the enemies!
-Place bombs and shields by dragging -
You can place bombs and shields on the screen by dragging. Use bombs and shields as the situation demands. If you can use them strategically, they are very effective.
Bombs blast all the enemies around it! Shields ward off the enemies!
-Aliens move along the white lines -
Aliens approaching the Earth run on the white lines on the screen.
Defeat them before they reach the Earth!
− Alien specific abilities −
Each type of alien has its own skills.
Try to get the best of them to get a victory!
− Stages gradually become harder −
Even though the early stages are easy, don't let your guard down.
The stages get increasingly difficult and challenging!
[Story]
In 2XX9, aliens living on a planet of the Solar System start invading the Earth.
Try out the new TURN TURN TANK, brought to you to protect the Earth.
Save our planet and make it a peaceful place where to live!
[Basic control]
Rotate the Earth・・・Determine the direction of the tank
Yellow button・・・・Fire
Red button・・・・・・Place a bomb by dragging it
Blue button・・・・・・Place a shield by dragging it